Over the last 20 years, has the quality of a residential tenant, and or tenant-occupied unit, improved?
Renters take a lot of flak in the HOA industry. "They don't have a vested interest", "They don't care about our property like owners do", etc, etc.… This article isn't to argue about whether or not renters are bad or good, it's to open discussion on the hypothesis of whether or not we, as HOA Management Professionals, are or have seen an improvement, over the last 10-20 years, of the average residential tenant and the related interactions we experience with that segment of our business. I believe we have and will continue to see improvements and increases in the average quality of tenants and I'll tell you why.
We don't know what we don't know
I had to ask someone that's been in our office for 25 plus years, but we used to track homeowner and HOA records solely in manilla file folders – times have changed in the HOA industry. Basically, everything we do now operationally is tracked in a digital database using an electronic system that runs on a server which is accessible through multiple devices. We don't have limits on the amount of data we can collect, other than allocated technical resources – data collection and storage is no longer controlled by physical space, objects, or major physical movement.
We store, manage, and manipulate HOA and homeowner data while sitting in a temperature controlled environment with as little physical movement as possible – pretty efficient when we compare it to just 20 years ago. But, how have the efficiencies we've gained attributed to the increase in data we collect? How much more data do we collect today, than in years past? Will we look back 10 years from now and wonder how we operated with the manually collected and micro amounts of data we manage today?
Rental property management systems (software)
I believe advanced and improved software utilized by professional rental property managers and their customers is the root cause which indirectly improves the quality of tenant we experience or interact with in the HOA management industry. Let's take a software like Buildium or Appfolio for example. These two SaaS platforms help property managers effectively manage more data with less effort. It's not the reduced effort that I believe is the root driver behind the quality of an average tenant – it's the increased data collection driven by industry workflows that are improving the entire process and indirectly affecting our relationships with this type of customer.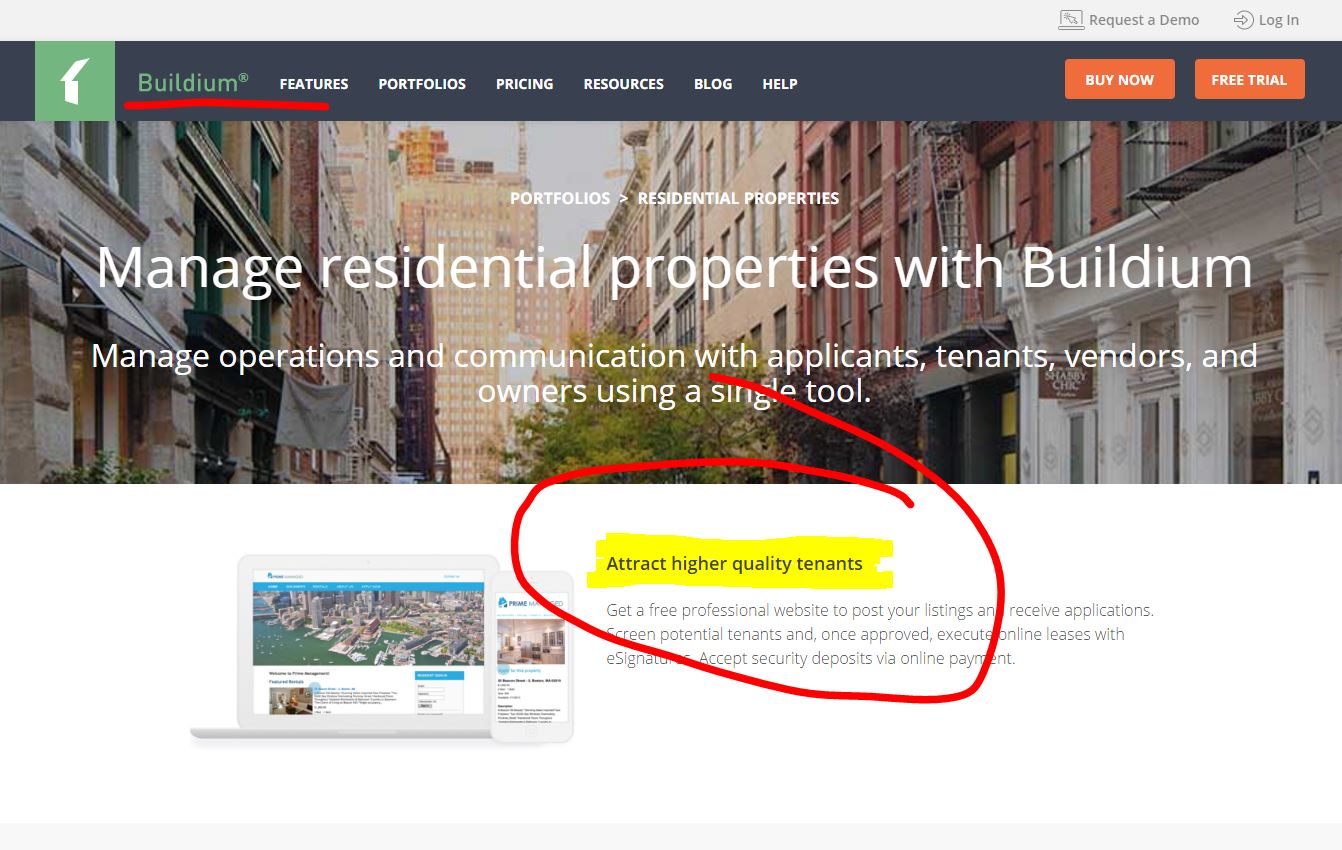 A screengrab from Buildium Software with messaging that's tailored to a "Higher Quality Tenant"
Think about it for a second. Before property management software was around, how did someone "apply" for a rental unit? Once a prospective renter actually found a property they felt fit their needs, they'd fill out a paper application, put in their last known address, list their buddy as a reference and be done with it. The property manager would then evaluate the prospect based on given information and a 'gut' feeling. That's changed for most. Now, a prospective renter goes online, makes a quick search, finds a good fit for their needs, and then fills out the application online with verifiable data. The last step is the most crucial part of that process – the step where data is entered and actually verified through electronic systems and shared databases. Some of those pieces of data could include SSN(social security number), social profiles, etc. – basically making it harder and harder to "fake" an application. The process adds a higher level of responsibility and accountability to the applicant.
Even rent payments are made online and if they aren't paid on time, the software can automatically report to a credit agency that they've skipped their rent payment after multiple notifications, which were also sent without manual involvement by the operator/property manager. It's automated and makes for a better personal history, which can help future property managers evaluate their potential renters regardless of regional constraints. Not only that, property managers can instantly communicate with tenants when they don't follow the rules set by the community associations we manage – ultimately the unit owner is responsible for their tenants' actions.
The HOA industry has been indirectly affected, for better
With all that is managed and tracked to the individual renter or tenant within an HOA by a property manager using advanced property management software, do you think the tenant might have more of a vested interest in maintaining the property and or keeping the peace in a community they rent property in? I'd say it definitely plays a big part in why we are seeing an increase in the average quality of the "tenants" we interact with today versus years past.
Rental property management isn't the only related industry that is indirectly improving our the interactions we have. Some might say short-term rental systems like Airbnb are actually degrading the interactions we have. I'm a millennial, so I'd strongly disagree, but we haven't personally dealt with some of the horror stories floating around the industry. But even then, advancements in software in other industries, regardless if they are related to real estate or not, impact the entire ecosystem of what we do. Social media has impacted the way we interact with residents. Whether or not you utilize social media to communicate with community residents is probably largely related to the expectations of your board members or past experiences with negative results. But, they aren't going away so you'll need to embrace it either way.
What industries will HOA software indirectly affect?
With the advancements of software and newly introduced systems we are seeing in the community association industry, what outside industries will we indirectly affect for both better or worse? With how much oversight we have from the local governments, will we continue to disrupt their view on micro-governmental property organizations? Will the implementation of new software and efficiencies we gain from using these new systems impact more than just our niche segment of the real estate marketplace in an upward trend?
Heywood Community Management specializes in homeowners' association (HOA) management in Arizona and surrounding areas such as Gilbert, Chandler, Tempe, Mesa, Queen Creek, Scottsdale, Phoenix, and more. Heywood HOA Management has actively been a part of Arizona's Real Estate market since 1933. With a single focus on community association management, Heywood Community Management is dedicating its resources to raising the community management standard of quality.
HOA business tips, intriguing topics, and freebies straight to your inbox.
Join the subscribers who get our content first.
Subscribe
No charge. Unsubscribe at anytime.