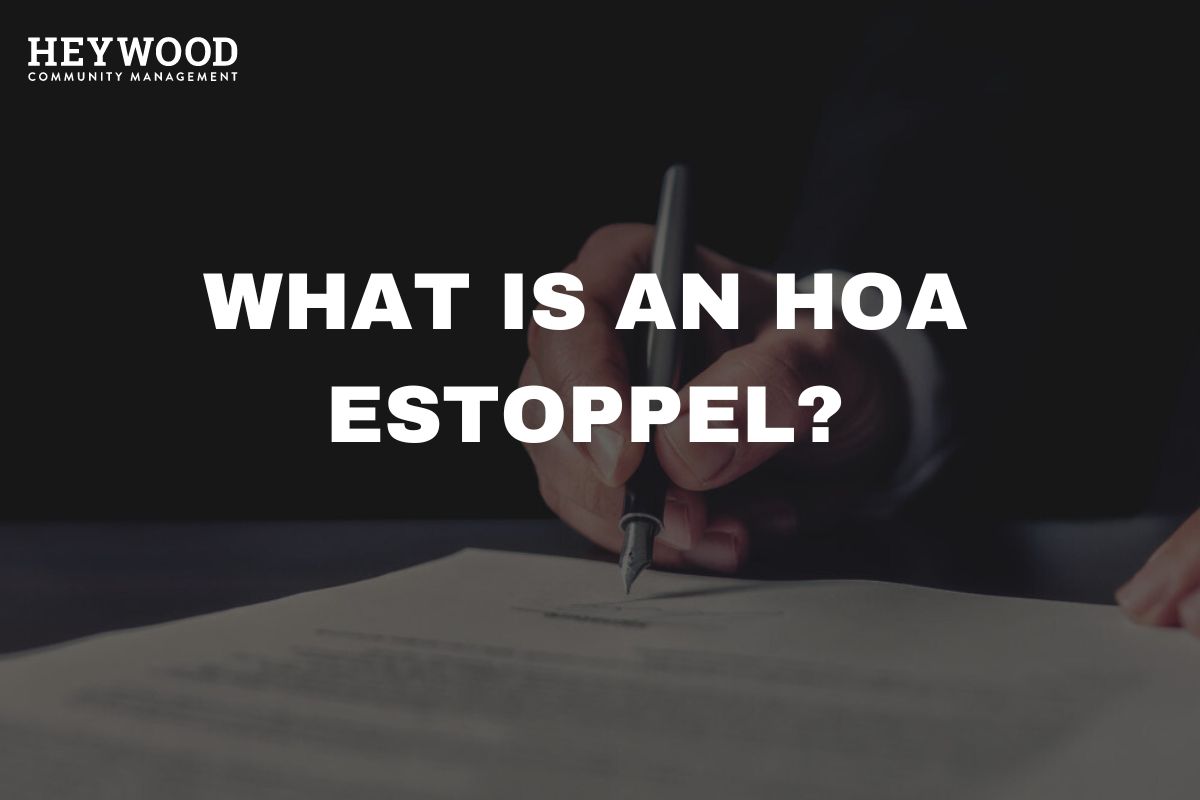 Understanding the world of homeowners associations (HOAs) can be a challenging endeavor. At
Heywood Community Management
, we aim to make that easier for you. In this article, we'll provide a thorough understanding of an important concept, the HOA estoppel, or Resale Certificate, which is often encountered during property transactions. In Arizona, we call it a Resale Certificate, if you were wondering.
What is an HOA Estoppel?
An HOA estoppel, also known as a resale certificate, is a critical document in real estate transactions, particularly when an HOA is involved. This document outlines any fees, dues, or assessments owed by the homeowner to the HOA. The HOA Resale Certificate plays a significant role in the property sale process.
What is the Purpose of HOA Estoppel?
The primary purpose of an HOA estoppel is to protect all parties involved in a property transaction. It helps to prevent unexpected financial obligations and provides a clear account of any debts that the current homeowner may owe to the HOA. By doing so, it aids in creating a smooth transaction for all parties involved.
What Does A HOA Resale Letter Include?
A typical HOA estoppel letter includes a variety of crucial information such as:
Any pending violations or fines against the property.
The current financial standing of the homeowner with the HOA, including any unpaid dues or assessments.
The regular assessment amount and frequency.
Any special assessments planned or ongoing.
These elements ensure transparency in the property transaction, providing the buyer with an understanding of their potential responsibilities and costs.
What Does An HOA Estoppel Letter Cost?
The cost of an HOA estoppel letter can vary greatly. In Arizona, where Heywood Community Management operates, the cost may range from $200 to $400. This fee, referred to as the
HOA transfer & disclosure fee
, covers the administrative cost of preparing the document.
What Does An HOA Estoppel Letter Do?
An HOA estoppel letter serves to provide transparency and security during a real estate transaction. It informs the potential buyer about any existing debts, upcoming assessments, or violations pertaining to the property. This invaluable document ultimately ensures that no financial surprises arise after the purchase of the property.
Conclusion
Understanding what an HOA estoppel is, the purpose it serves, what it includes, its cost, and its overall role in property transactions, is key to navigating the world of HOAs successfully. At Heywood Community Management, we're committed to making these processes as straightforward and stress-free as possible.
FAQs:
Who Pays The HOA Estoppel Fee?
The person responsible for paying the HOA estoppel fee can vary and is typically determined during contract negotiations. It can be either the buyer or the seller, but in most cases in Arizona, it's the responsibility of the seller.
Who Orders The Estoppel Letter?
Usually, the title company or the attorney handling the property transaction orders the estoppel letter. They ensure that the document is ready and properly filled out before closing.
What Does Estoppel Mean for Closing?
In terms of closing a property deal, the estoppel letter serves to certify any financial obligations linked to the property. It ensures that the buyer is fully aware of any pending payments or violations, promoting a smoother and more transparent closing process. Remember, understanding the HOA estoppel is a crucial step in any successful property transaction. If you need more advice or assistance, don't hesitate to reach out to Heywood Community Management, your trusted Arizona HOA Management company.
Heywood Community Management specializes in homeowners' association (HOA) management in Arizona and surrounding areas such as Gilbert, Chandler, Tempe, Mesa, Queen Creek, Scottsdale, Phoenix, and more. Heywood HOA Management has actively been a part of Arizona's Real Estate market since 1933. With a single focus on community association management, Heywood Community Management is dedicating its resources to raising the community management standard of quality.
HOA business tips, intriguing topics, and freebies straight to your inbox.
Join the subscribers who get our content first.
Subscribe
No charge. Unsubscribe at anytime.